Latest Updates
E Rozgaar Freelancing Training Program 2023 Apply Online
E Rozgaar Freelancing Training Program 2023, PITB has announced a call for e-rozgar training programs for young people interested in freelancing. The program aims to provide an opportunity for young people to earn money through IT training and freelancing, and the program has been a success as its interns have made over Rs 350 million in the past few years. PITB offers 3-month training programs, content marketing, and creative design.
General Knowledge Mcqs With Answers 2023 | General Knowledge Mcqs PDF
E Rozgaar offers face-to-face/physical and online training. Admission for the next installment of the E -Rozgaar training program is now open. Interested applicants who meet the selection criteria may apply through the E-Rozgaar website www.erozgaar.pitb.gov.pk. Admission to the new session has been announced. Unemployed Punjab youth under 35 can apply for the training program.
How to Apply E Rozgaar Freelance Training Program 2023
Applicants must submit an online application at http//www.erozgaar.pitb.gov.pk/apply to participate in the online admission test and submit certified online documents. The duration of the course is three months, applications are submitted online.
Merit-selected candidates will receive three months of free training from experts with excellent freelancing experience, enabling candidates to earn online while working from home on technical, non-technical, and creative assignments.
Punjab Rozgar Scheme Online Apply | Punjab Rozgar Scheme Form 2023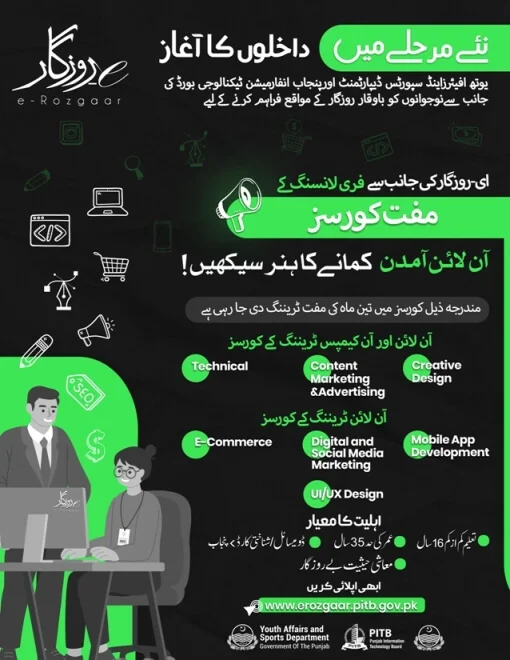 E-Rozgar Online Courses
Completion of courses offered in the online learning mode;
Electronic commerce
Technical
Mobile Application Development
Content marketing and advertising
Digital Marketing and Social Media Marketing
Creative design
UI / UX design
President Rozgar Scheme 2023 | Apply Now For NBP Rozgar Scheme
E-Rozgar Courses on Campus
The following courses are offered in on-campus/physical training mode;
Technical
Content marketing and advertising
Creative design
Eligibility Criteria For E Rozgaar Freelancing Training Program
The acceptance criteria require basic computer knowledge,
place of residence in the province of Punjab,
valid computerized national identity card (CNIC)
at least 16 years of education with
age limit up to 35 years.
Punjab Mazdoor Card Online Apply 2023 | Mazdoor Card
Features E Rozgar free Training Program
Available in 36 districts of Punjab.
40 training centers throughout the province
Produces 15k+ freelancers per year
IT courses offered under the PITB E Rozgar free Training Program
The Punjab Information Technology Council offers three months of free training in 3 DOMAIN. TRACK OF FREELANCE COURSES LEARNING IN ALL FIELDS.
Punjab Khidmat Card 2023 Online Registration | Khidmat Card Apply Online
IT technical course
Basics of web development
Html and css
Mysql
Sql queries
Php and mysql (dynamic websites)
Wordpress basics
Creation of sites using wordpress
Own content type in wordpress
Wordpress theme development
Introduction to the development of a WordPress plugin
TEVTA E-Learning Online Courses | Free Online Courses 2023
CONTENT MARKETING AND ADVERTISING
Content marketing
Marketing funnel
Creating attractive content
WordPress for blog
Lid generation and other ways to earn
Content distribution
On page seo and backlinks
DESIGN COURSES
Logo design
Brand ident set
Adobe photoshop
Adobe illustrator
Software design
In collaboration with the Punjab Information Technology Board (PITB), the Punjab Department of Youth and Sports has announced the call for applications for E-Rozgaar, the provincial government's flagship freelance training program.
As part of the latest installment of E-Rozgaar, leading IT professionals and freelancers will provide free training to thousands of young people, allowing them to earn money freelancing.
Unemployed persons under the age of 35 with at least 16 years of education and permanent residents of Punjab are eligible to apply for the latest E-Rozgaar training program.
Since its inception, PITB has trained over 31,000 people on various E-Rozgaar packages, and they have earned over Rs. 3.5 billion through freelancing.