Latest Updates
Ehsaas Nashonuma Program Online Registration 2023 -PKR 1500-2000
How to Registered Ehsaas Nashonuma Program 2020
Prime Minister Imran Khan launched a new program, ehsaas nashonuma program online registration, to tackle stunting and improve nutrition for the most impoverished children in Pakistan, highlighting no place for malnutrition in Pakistan in the 21st century.
Ehsaas Nashonuma Program grand opening took place at the Ehsaas Nashonum Center located at the headquarters of Dogra Hospital Khyber Tribal Region.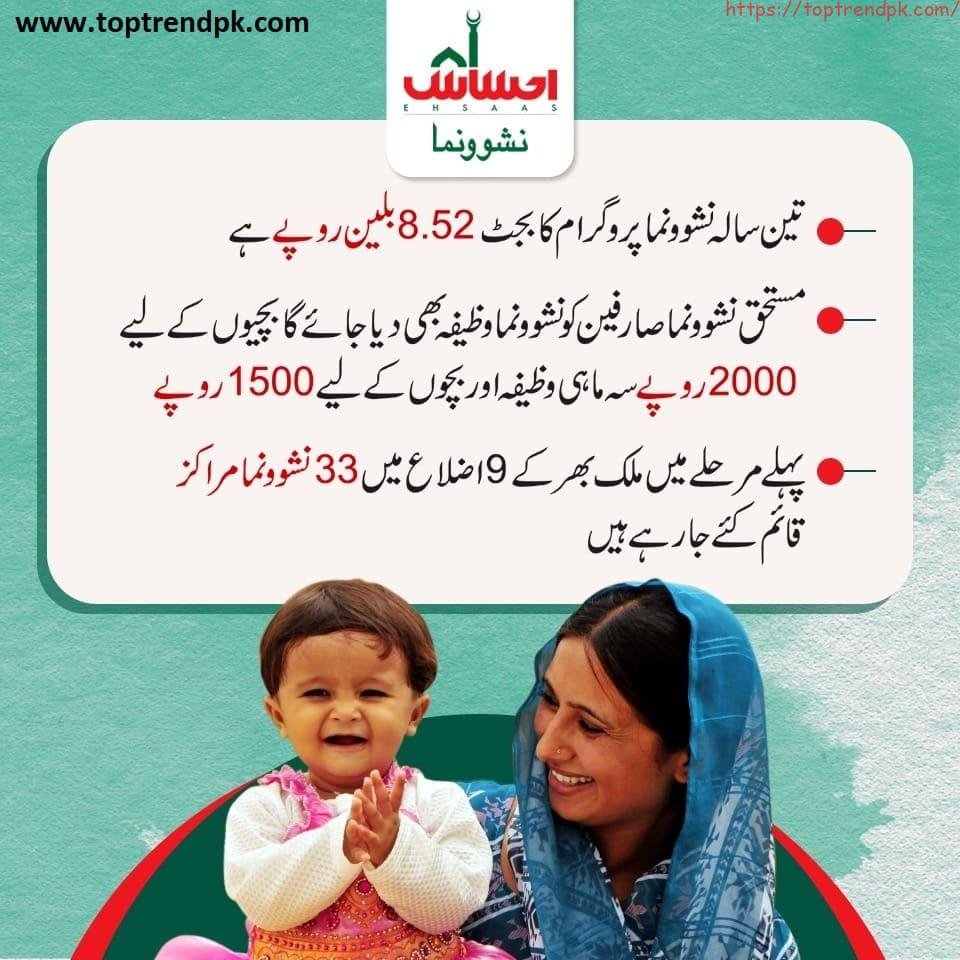 Ehsaas Nashonuma Program Registration 2023 Complete Guide
The Prime Minister visited the Ehsaas Nashonuma Programme Registration centre and spoke to the staff and the women beneficiaries and their children at the hall or information desks and specialised nutritious distribution points.
Dr Saniya Nishtar SAPM Social Protection and Poverty Reduction briefed the Prime Minister on the wide range of services the Ehsaas Nashonuma Programme provided.
She also guides an Android-based Ehsaas Nashonuma app that will enable electronic registration and tracking of beneficiary women and children under 23 months of age.
What is Ehsaas Nashonuma Program
Ehsaas Nashonuma Program 2023 will focus on improving nutrition and health for children in the first thousand days of life, the most critical period in early childhood development from conception to age two.
Ehsaas Nashonuma Program 2023 will provide quarterly conditional cash transfers to the poorest pregnant women and those with children under the age of two years.
Total amount PKR 1,500 for each boy and PKR 2,000 for each girl. Beneficiaries will be identified through the Ehsaas Kafaalat Program, and payments will be based on the consumption of speciality nutritious foods, immunisations and attendance at health education classes. The Government of Pakistan fully funds the program.
Here is the Link To Ehsaas Kafalat program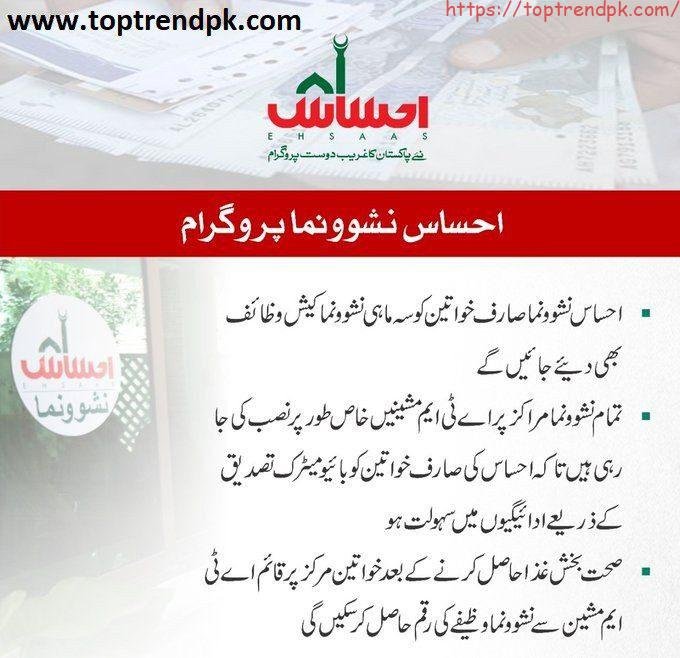 Benefits of Ehsaas Nashonuma Program 2023
1-Total amount PKR 1,500 for each boy
2-Total amount PKR 2,000 for each girl
3-Beneficiaries can get monthly base payments
4-Amount will be received through ATM
5-Help with cash transfers to the most deficient pregnant women
6-Support for improving nutrition for the most impoverished children
How to Registered Ehsaas Nashonuma Program 2023
Ehsaas Nashonuma Programme online registration 2023 will b start soon. You can apply through the Ehsaas Nashonuma Program app or apply online on the Ehsaas Nashonuma program website.
Sms code for Ehsaas Nashonuma Program online registration will also share soon. Keep connected with us.
Ehsaas Nashonuma Program Online Registration 2023 – Registration Centers
Ehsaas Nashonuma Programme is launched in Phase one in nine districts, including Khyber.
Upper Dir
Bagh
Gizer
Hunza
Harmang
Karan
Badin and Rajanpur.
These areas were selected in consultation with the provincial health departments. Thirty-three Ehsaas Nashonuma Programme Marakaz will open at Tehsil level health facilities to provide all program services under one roof.
Ehsaas Programs List By Government Of Pakistan
Ehsaas Kafalat Program
Images Of Ehsaas Nashonuma Program 2023
All the information given in the post is taken from official website and other resources . Please do not share your ID card number, mobile phone number here. Thank you. We are only sharing information