Tele School Live Tv The Prime Minister of Pakistan Mr. Imran Khan has opened an educational television channel for students in Pakistan.
Tele school began its form of transmission Tuesday April 14 2020 Tele Education School TV channels designed specifically for students from the class of 1th to 12th
Teleschool online educational channel can be viewed from remote areas of Pakistan. PTV Television Channell will be operated by PTV Pakistan.
Watch Tele School Live Tv education from your home and you don't need to go to any school or training center.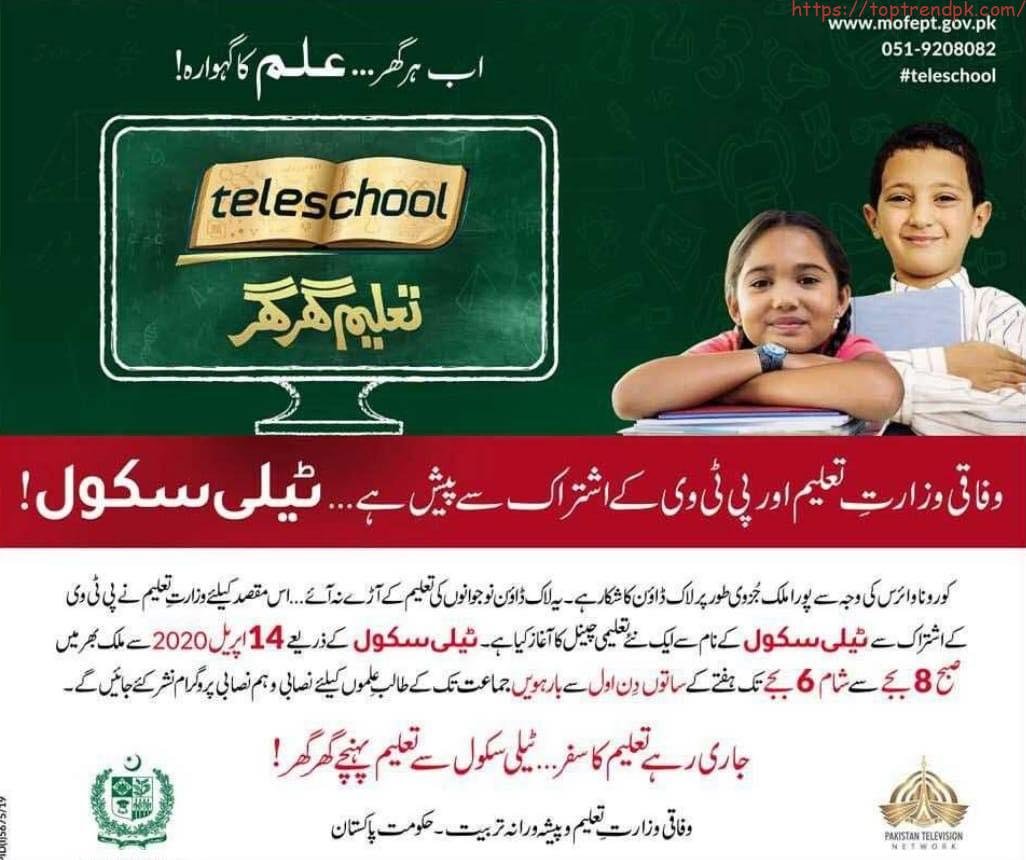 How We Can See PTV Tele School Live Tv Streaming
PTV Teleschol educational television channels can be watched from anywhere in Pakistan. Tele School Live Tv you can see the satellite television channel Tele School sitting at home.
The channel of the Educational Channel is especially broadcast due to the current outbreak of the Corona virus and an increase in the number of patients with COVID-19.
The Ministry of Federal Education and Training has developed and uploaded training lectures at:Talimabad Talim Gar Sabak from the Google Play Store.
An educational channel can also be watched from remote areas Gilgit Baltistan and northern areas.
What is the schedule for PTV Teleschool Education?
Television channels PTV Tele School will broadcast educational lectures for students in grades 1th class to 12th PTV Tele School can be watched from home daily from 08:00 to 18:00.
However the morning session of the Tele school educational television channel is intended for elementary grades such as Match General Science English and Mathematics.
While the upper classes will watch classes on the TV channel the channel later during the day. Tele School lectures will be held daily.
Parents are encouraged to send their children to Tele School Television and to compensate for the loss of their education caused by the Corona virus.
| | |
| --- | --- |
| Class | schedule of lessons |
| 1 class | From 08:00 to 09:15 |
| Class 2 | From 09:15 to 10:00 |
| 3rd grade | From 10:00 to 10:45 |
| 4th grade | From 10:45 to 11:30 |
| 5th grade | From 11:30 to 12:15 |
| 6th grade | From 12:15 to 12:45 |
| 7th grade | From 12:45 to 01:15 |
| Grade 8 | From 01:15 to 02:00 |
| Grade 9 | From 02:00 to 03:00 |
| Grade 10 | From 03:00 to 04:00 |
| Grade 11 | From 04:00 to 05:00 |
| 12th grade | From 05:00 to 06:00 |
Teleschool schedules will be downloaded daily. Click here to view the schedule of the PTV channel.
What is the frequency of the Tele school TV channel for Dish TV?
Satellite: Thick IR
Position: 38'E
Frequency: 4052 MHz
Symbol speed: 5185 fps
Polarity: Vertical
If you do not have this Teleschool television channel on your cable network, please ask them to set the channel on this frequency.
Pakistan's electronic media regulatory body has also instructed to launch a cable television station.
If you don't watch the cable operator you can file a complaint on the PEMRA official website.
If you missed a lecture on the Telescope channel you can watch it on the educational YouTube channel since all the content on the Telescope channel is available on YouTube.
Tele school's dedicated television channel will be broadcast via a ray provided by Pakistani Television (PTV) nationwide from 8am to 6pm for online learning from grade 1th through 12th class.
Tele School Live Tv Other Key Information
Official website of Tele School Tv