Latest Updates
10 Best T Shirts Brands For Women In Pakistan 2023 – Woman Choice
Imagine the most comfortable clothing you can think of, especially during hot summers when comfort is a top priority. A cute t-shirt paired with denim is everyone's favorite outfit choice. It not only makes you feel at ease but also gives you a fresh and stunning look.
No matter where you're headed, a stylish tee combined with the right jeans can make you a fashion icon. In Pakistan, the fashion industry has undergone a revolution in recent years. In the past, t-shirts were primarily associated with men or sports, but as the fashion industry evolved, women's tees have become increasingly popular.
Best T Shirt Brands for Women in Pakistan: Elevate Your Style
When it comes to women's fashion in Pakistan, t-shirts have become an essential wardrobe staple. Versatile, comfortable, and stylish, t-shirts can be dressed up or down for various occasions. Whether you're heading to college, running errands, or enjoying a casual outing with friends, finding the right t-shirt is crucial. In this article, we will explore the best t-shirt brands for women in Pakistan, featuring high-quality materials, trendy designs, and a perfect blend of comfort and fashion.
When Pakistani girls are looking for the latest designs and styles for their college and university attire, as well as nightwear, it's important to choose brands that cater to their specific preferences. We have collected information on various brands, taking into consideration the Pakistani cultural environment, university and college standards, and the desire for beauty and uniqueness. With this comprehensive guide, you can unlock a world of different choices and enhance your personal style.
1.Mango
Mango, a Spanish brand is Best T Shirts Brands For Women In Pakistan , has been rapidly gaining popularity among Pakistani youth and has achieved tremendous success in the past decade. It has become a trendsetter in providing clothing for modern Pakistani women.
Related Article: Best Shirts Brands In Pakistan 2023 To Refresh Your Look
While Mango does offer clothing lines for men and children, their specialization lies in women's apparel. Their collection of t-shirts is truly remarkable and will leave you amazed, making you want to own them all. The demand for plain t-shirts in neutral and essential colors, crafted from 100% cotton and sustainable, eco-friendly fabrics, is incredibly high.
Related Article: The Best Ladies Handbag Brands in Pakistan | Stylish and Affordable
While Mango offers clothing lines for men and kids, their expertise lies in women's apparel. Prepare to be amazed by their extraordinary collection of t-shirts that will surely tempt you to own them all. The plain t-shirts in subtle nude and basic colors are crafted from 100% cotton, ensuring sustainability and environmental friendliness.
Related Article: Best Creams For Dry Skin On Face In Pakistan – Branded Creams 2023
The color combinations are never overly flashy or garish, but always pleasing to the eye. Every girl's wardrobe deserves to have a stylish and cool tee from Mango. So, don't hesitate any longer and seize the opportunity to find something exciting and fun to wear.
Related Article: Top Picks for Best Smart watches brands In Pakistan 2023 | A Brand Comparison
2.Outfitters
If you're in search of a cool, trendy, and fun t-shirt that will uplift your mood and bring you joy, look no further than Outfitters which is Best T Shirts Brands For Women In Pakistan. Their collection of tees for ladies is unparalleled.Founded in 2003, Outfitters has become one of the most adored brands in Pakistan, offering excellent quality and fashion-forward designs at affordable prices.
Whether you're hanging out with friends or heading to a meeting with your boss, Outfitters has got you covered. The dexter graphic t-shirt will make you stand out with its exceptional style, while the basic pink tee will ensure a professional and appropriate look.
Related Article: 7 Best Ariana Grande Perfumes | Hot Collection Eau De Parfum 2023
With a vast selection of articles and countless options to choose from, shopping at Outfitters becomes a delightful and thrilling experience. Whatever type of t-shirt you are seeking, rest assured that they will exceed your expectations and offer something even better than you could have imagined.
Related Article: Best Clothing Brands In Pakistan For Ladies 2023
3.Cougar
For a considerable period of time, Cougar has been the trusted fashion companion of Pakistani women and Best T Shirts Brands For Women In Pakistan . They possess a deep understanding of their target audience and create clothes that resonate with their tastes and preferences.
What sets Cougar apart is their remarkable ability to strike a perfect balance between fashion and comfort. Their t-shirts exude elegance and sophistication, truly capturing the essence of modern Pakistani women. The fabric used is both soft and durable, ensuring that your investment in their products is worthwhile and won't leave you with any regrets.
Related Article: Maybelline Lipsticks Price Pakistan – Get the Best Deals 2023
Cougar's t-shirts are not only stylish but also perfect for everyday wear. The lightweight and breathable fabric make them incredibly comfortable, while the appealing colors are a treat for the eyes. If you're looking to add some classy tees to your wardrobe, Cougar won't disappoint you with its exceptional quality and designs.
Related Article: 10 Best Fast Food Brands In Pakistan 2023 With Prices
4.Next
Next is renowned and Best T Shirts Brands For Women In Pakistan for its outstanding quality and captivating designs, making it one of the most reliable and trusted brands to turn to. As a UK-based fashion house, it has become a favorite destination for women, offering a comprehensive range of products that cater to all your desires. Next stands out as one of the most popular brands when it comes to producing t-shirts for women.
Related Article: The Best Ladies Handbag Brands in Pakistan | Stylish and Affordable
Next's t-shirts are available in an extensive variety of sizes and colors. Whether you prefer oversized or body-fit tees, they have options that will give you a smart and effortlessly cool casual look. What's interesting is that each shirt is offered in multiple colors, adding an element of fun to the shopping experience. So, if you appreciate the quality and style but aren't fond of the color, you can easily find alternatives that suit your preferences.
Related Article: Top 10 Shoes Brands In Pakistan | Pak Top Shoes Brands 2023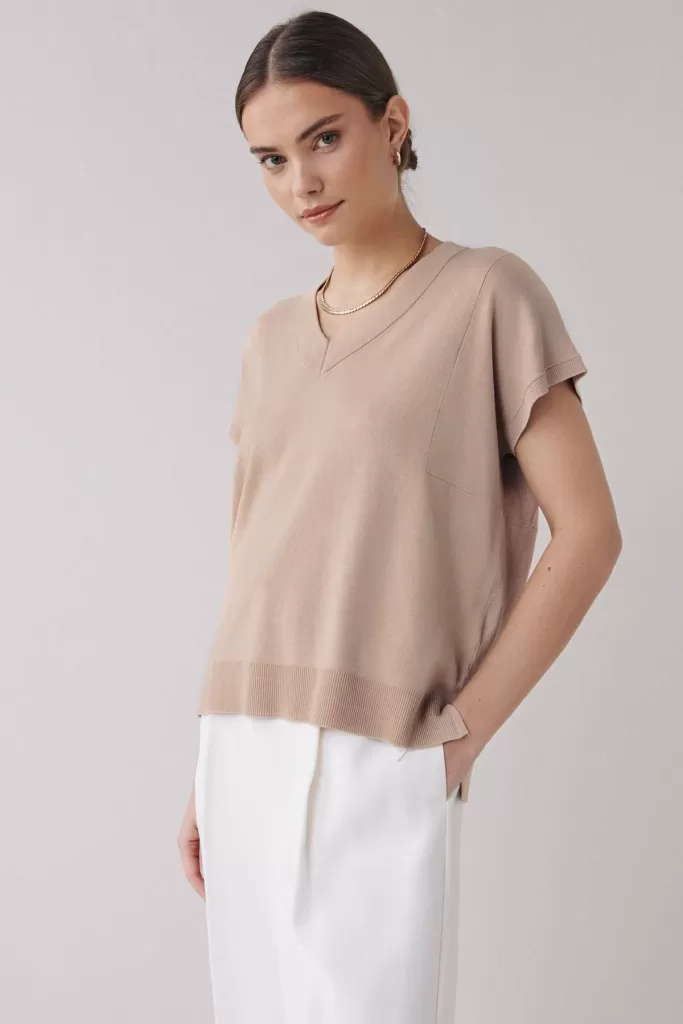 No worries, as Next offers a wide range of colors for that particular shirt, you can easily find the one that perfectly suits your body and matches your mood. When you're looking to enhance your style game with some chic t-shirt options for your wardrobe, Next will brilliantly cater to your needs.
5.Beone Shop
Beone Shop is a true haven for fun-loving, outgoing, and modern ladies. They pride themselves on representing the contemporary and sophisticated women of Pakistan, and their claim holds true. Beone is synonymous with class and quality.
When it comes to t-shirts for women, Beone excels in producing durable and high-quality tees that are in line with the latest trends. Their t-shirt collection offers a diverse range, catering to every preference. From soft and vibrant options to plain and graphic designs, you can find it all. The variety of designs includes crew necks, camisoles, and oversized shirts, each adding a touch of chicness to your look.
One also keeps up with the latest happenings by producing t-shirts that showcase popular themes. Recently, they launched a collection of cool tees featuring Peshawar Zalmi, allowing you to show your support for your favorite team while wearing a brand you adore.
Moreover, One frequently offers fantastic sales with discounts of up to 50%, making it even more budget-friendly to purchase these trendy tees. Don't miss out on the opportunity to grab them at great prices and proudly display your team spirit.
6.Mantra
Mantra is a renowned brand that specializes in selling and designing fashionable clothing. They have been operating in Pakistan since 2003 and have gained a reputation for producing high-quality products, earning the trust of their customers. Mantra understands the needs of modern women and offers a wide selection of trendy t-shirts that cater to their preferences.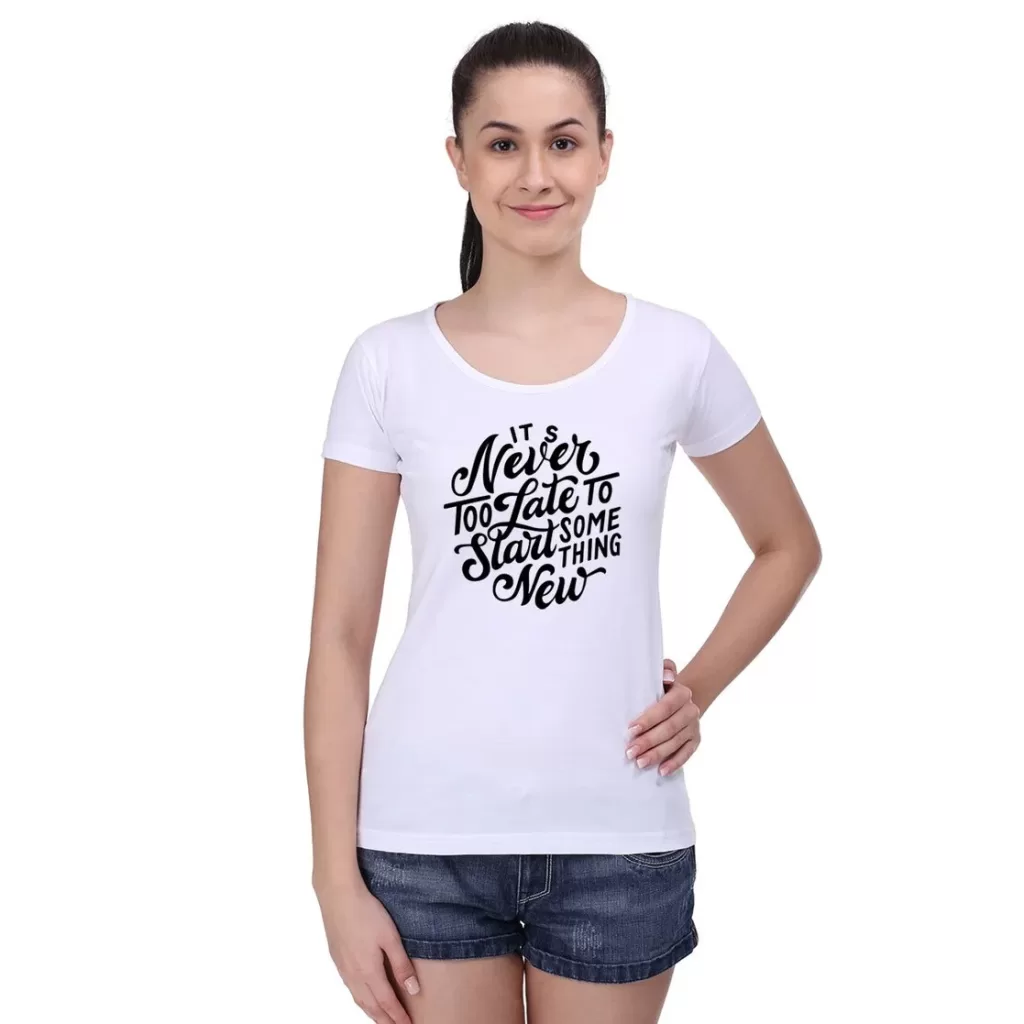 Whether it's a buckle tee or a chain neck tee, each piece from Mantra is thoughtfully designed to meet the needs and demands of modern women. They prioritize both comfort and style, believing that feeling comfortable in what you wear is essential while still looking gorgeous. With Mantra, you don't have to compromise on either comfort or appearance.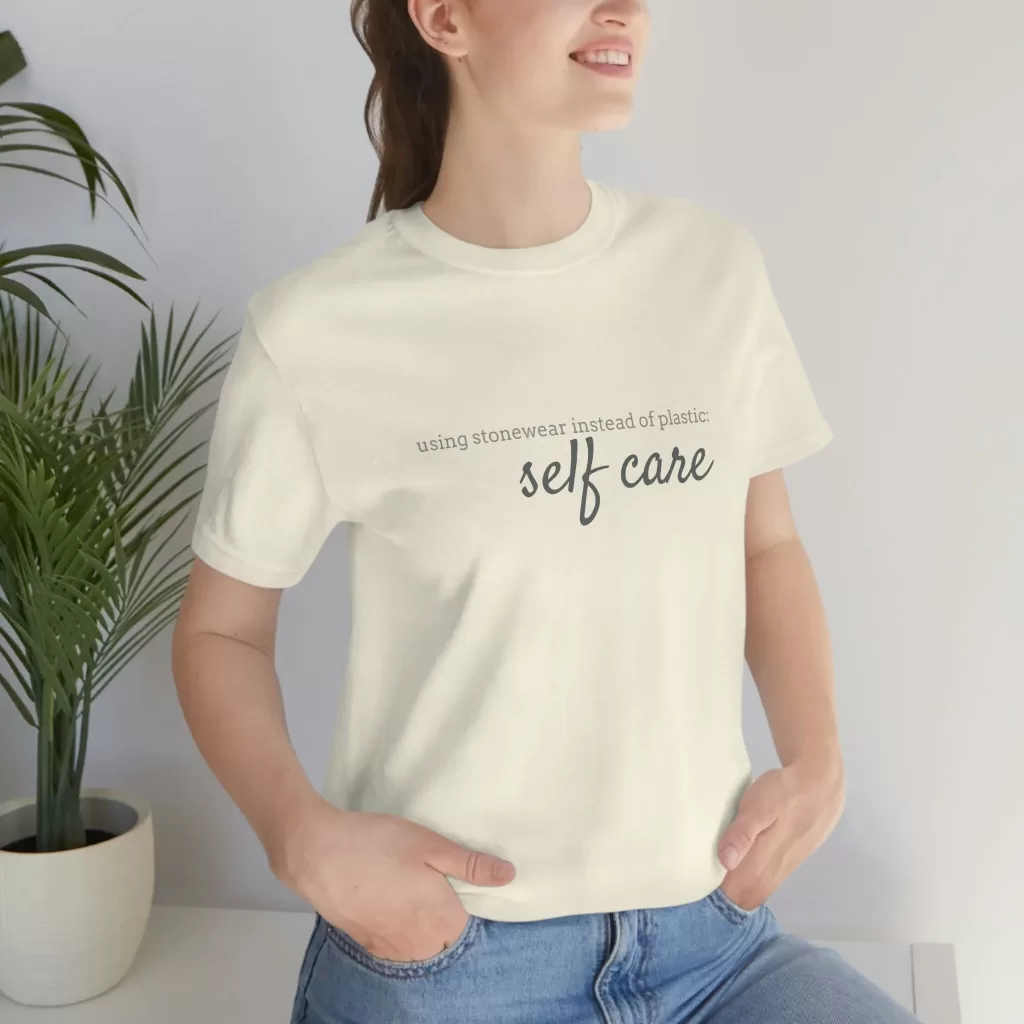 Mantra offers t-shirts of exceptional quality that are well-fitted and cater to women of all sizes and shapes, not just standard sizes. If you're seeking something unique, Mantra is definitely worth a visit, and I assure you that you won't regret it even for a moment.
Related Article: 10-Best Shampoos for Hair Growth in Pakistan 2023 – Top Choice
7.Sapphire
Sapphire is undoubtedly one of the best t-shirt brands for women in Pakistan. With its impressive collection and commitment to quality, Sapphire has gained immense popularity among fashion-conscious individuals.
When it comes to t-shirts, Sapphire offers a wide range of options that cater to diverse tastes and preferences. Their designs strike a perfect balance between trendy and timeless, making them suitable for various occasions. Whether you're looking for a casual everyday t-shirt or something more formal, Sapphire has got you covered.
Sapphire's color palette is another aspect that sets them apart. They offer an array of vibrant and sophisticated colors, catering to different moods and styles. Whether you prefer bold and bright hues or subtle and pastel tones, you'll find a t-shirt that suits your preferences perfectly.
8.Beechtree
Elevate Your Wardrobe with Stylish Women's T-Shirts. Beechtree offers a stunning collection of women's t-shirts that embody contemporary fashion and comfort. From classic basics to trendy prints and patterns, Beechtree caters to diverse tastes and preferences.
The brand's attention to detail ensures impeccable stitching and high-quality fabrics, ensuring durability and long-lasting wear. With their comfortable fits and flattering designs, Beechtree t-shirts empower women to express their unique style effortlessly. Elevate your wardrobe with Beechtree's range of stylish women's t-shirts, where fashion meets comfort in perfect harmony.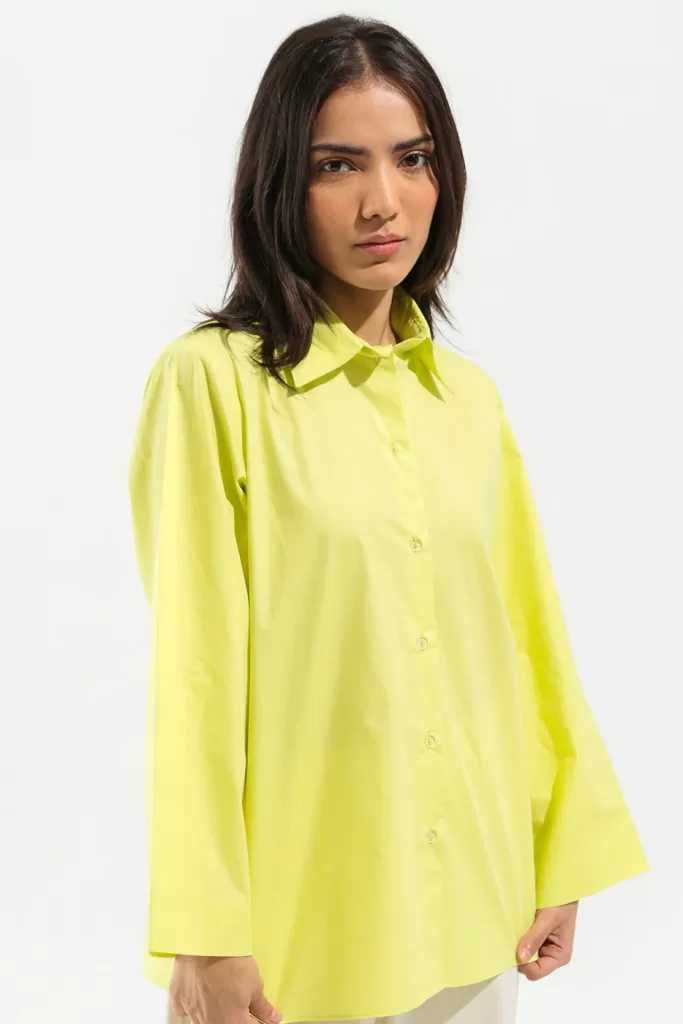 9.Generation
Redefining Women's T-Shirt Fashion. Generation stands out as a trendsetter in the realm of women's t-shirts. With their innovative designs and attention to detail, Generation has redefined fashion in Pakistan. Their collection features a fusion of traditional and contemporary elements, incorporating vibrant colors, intricate embellishments, and unique prints.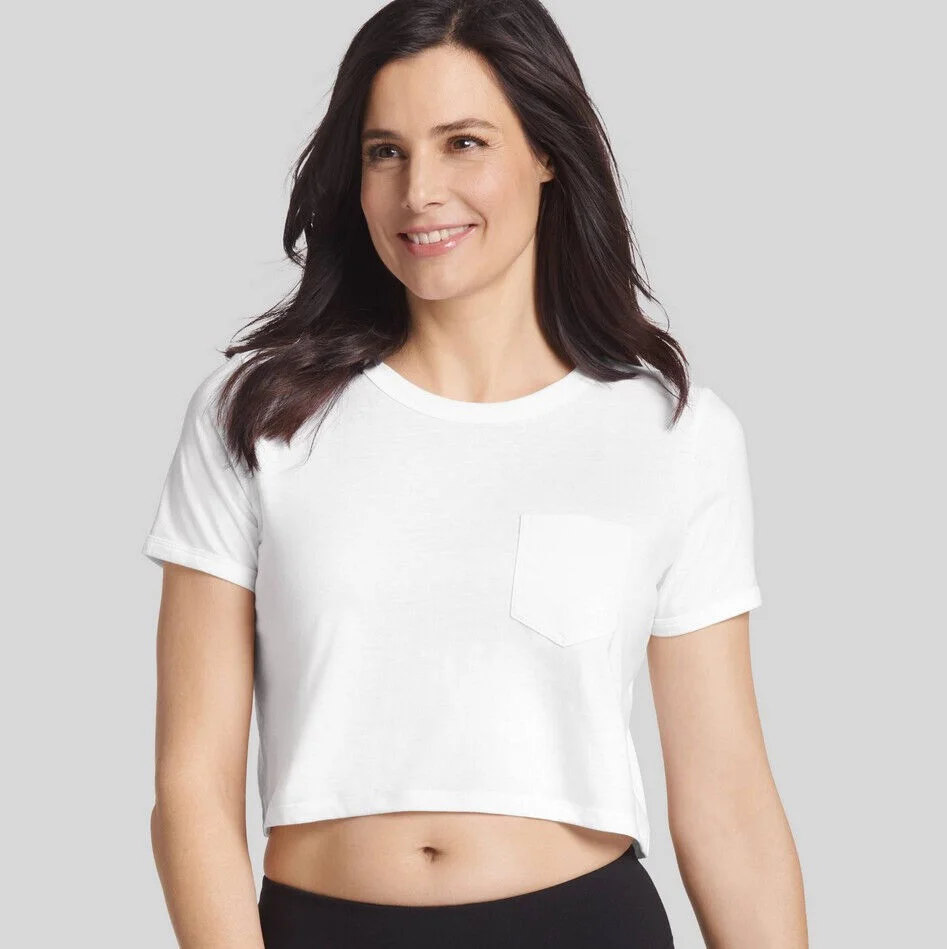 Each Generation t-shirt is a work of art that showcases the brand's commitment to craftsmanship. Moreover, their t-shirts are crafted from premium fabrics, ensuring utmost comfort and durability.
Whether you seek a casual or statement piece, Generation offers a wide range of options to cater to individual styles. Embrace the spirit of individuality and self-expression with Generation's exceptional women's t-shirts, where fashion boundaries are shattered and new trends are born.
10.Sapphire
Elevate Your Style with Women's T-Shirts. Sapphire has become synonymous with elevated fashion in women's t-shirts. Their collection showcases a perfect blend of sophistication and trendiness. From chic basics to eye-catching prints and intricate details, Sapphire offers a diverse range of t-shirts that cater to every fashionista's preferences.
Crafted from premium fabrics, their t-shirts boast exceptional quality and comfort. With attention to fit and flattering silhouettes, Sapphire ensures that every woman feels confident and empowered in their t-shirts.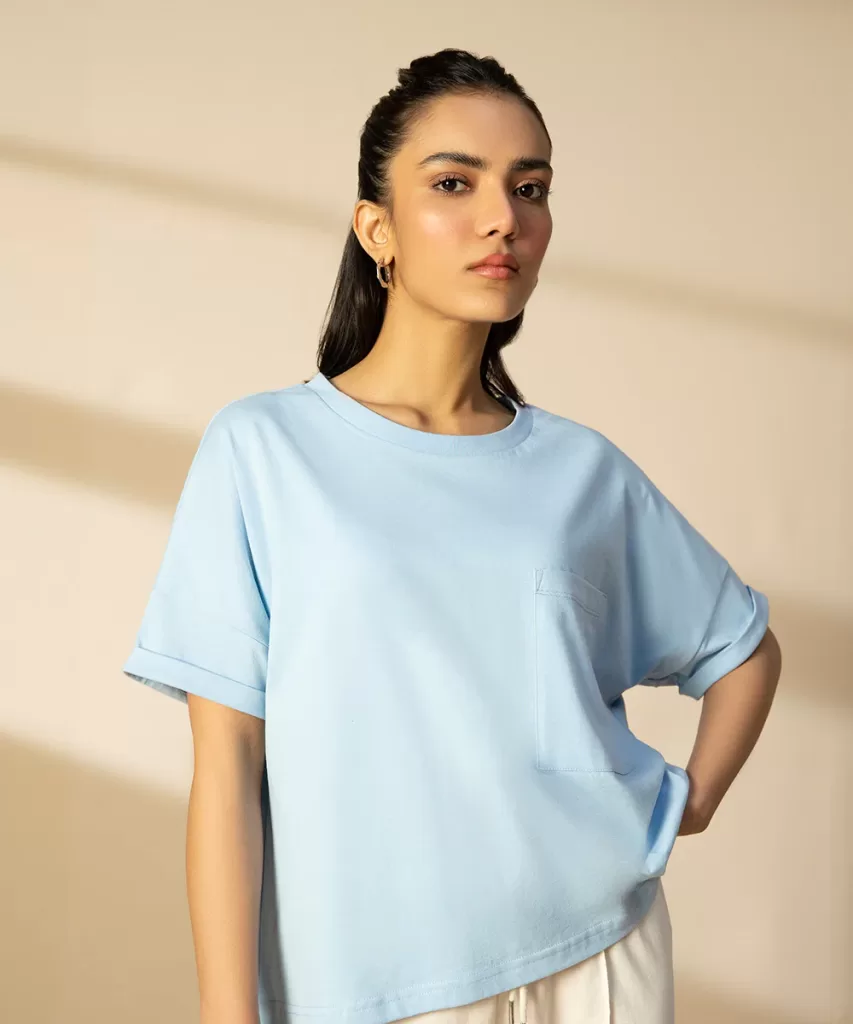 Whether you're aiming for a casual yet polished look or want to make a bold fashion statement, Sapphire has the perfect t-shirt to complete your ensemble. Step into a world of style and elegance with Sapphire's women's t-shirts, where each piece is a reflection of impeccable taste and fashion-forward sensibility.