For nearly three decades, the Suzuki Mehran has dominated the entry-level hatchback segment in Pakistan. Even after its production ceased in 2019, many car enthusiasts still prefer it. Rising car prices are making it difficult to buy new cars, and high fuel costs are limiting your choices.
If you are interested in Mehran, we have provided the Suzuki Mehran 2023 price in Pakistan for your convenience.
It was introduced to the local market in 1989 as a successor to the classic Suzuki FX and became an instant hit. Since then, it has become a consumer favorite and has surpassed all other cars in terms of units sold.
Affordability, durability, and high resale value made it a desirable option. It is also a great option for consumers planning to switch from two-wheelers to a car. Every Pakistani has owned a Mehran at least once, and for most, Mehran is their first car. Read Also: Suzuki Alto Latest Price In Pakistan September 2023
The new Suzuki Mehran Euro-II model was introduced in 2012, the only difference being that it used electronic fuel injection instead of the carburetor used before 2012. Despite the lack of modern safety features, the Boss sells like hotcakes yearly.
It is considered cash in Pakistan due to its extremely high resale value. Even today, a 1989 Mehran 2023 can be resold in the Pakistani market at a reasonable price. You can also read Suzuki Alto Installment Plan Bank Alfalah Auto Loan 2024
Mehran is easy to buy in Pakistan, especially if financed by a bank, and easy to resell. Its durability knows no bounds as it can be ridden on any road or surface despite causing long-term damage to its external or internal condition. Despite the poor build quality, the Boss can withstand all sorts of bumps and knocks.
Suzuki Mehran is quite inexpensive when it comes to its maintenance. Since it has been on the market for a long time, all mechanics know its ins and outs. Its auto parts are also minimally priced, making maintenance easy. Read Also: Token Tax Calculator Islamabad | Check Online 2023
Suzuki Mehran 2023 – Full Car Review
We have listed down a few key reasons why the Mehran Suzuki 2023 can be a suitable option in the current market:
Affordability: The Suzuki Mehran is budget-friendly, making it affordable for people on a budget.
Low maintenance costs. Simple design and easily accessible spare parts reduce maintenance costs.
Fuel Economy: Mehran is known for its fuel efficiency to save on your daily commute.
Compact size: Small size makes it easy to navigate congested urban areas.
Resale value. Despite being discontinued, it retains good resale value on the used car market.
Easy Availability: Spare parts and service centers are widely available nationwide.
Suzuki Mehran Latest Price in Pakistan 2023 – 24
Suzuki Mehran latest Price in Pakistan October 2023 ranges from 7 to 13 lacs of Pakistani rupees, depending on the model and condition of the car. You can check your nearest market for more accurate pricing data. Read Also: Suzuki Alto 2023 Price in Pakistan, Images, Reviews & Specs
Suzuki Mehran Exterior
The latest Mehran has a rather boxy appearance. At the front of the Suzuki Mehran are trapezoidal headlights, a radiator grille with rectangular openings on one side, a sealed end on the other, and standard black bumpers.
At the car's rear is a pair of slightly angular square taillights, a standard hatchback, and a black bumper. The Boss features the same colored bumpers as the higher-end Mehran VXR variants. The exterior design of the Suzuki Mehran features a restrained, minimalist style typical of cars created in the 1980s.
Suzuki Mehran Interior
The interior of the Suzuki Mehran uses gray-colored plastic parts. The car's interior is minimalistic; nothing is hidden, and everything is controlled manually, even the power windows and seat adjustments. Basic features like central locking, adjustable steering, and rear seat belts are missing from the Suzuki Mehran. Read Also: Scooty Price In Pakistan 2023 – Scooty For Girls, Complete Reviews
While the Boss comes standard with a heater, the more expensive VXR comes with air conditioning and cloth seats. The overall interior of the Mehran Car is characterized by a lack of interior space both front and rear for a hatchback of this exterior size and a need for more comfort and interior refinement.
Suzuki Mehran Engine
A 796cc 0.8L OHV 6-valve powers the Mehran car Inline-3 engine that produces power of 39/5500 bhp/rpm with a peak torque of 59/3000 Nm/rpm. The top speed is 135 km/h, and acceleration from 0 to 100 km/h takes approximately 24 seconds.
Suzuki Mehran Mileage
The Suzuki Mehran has an average mileage of 10 km/l in the city, which gives an estimated range of 300 km with a 30-liter fuel tank and 13 km/l on the highway, gives an estimated range of 390 km.
Mehran Maintenance Work
Servicing a Suzuki Mehran car is extremely cheap. Since the car has been on the market since 1989 and has mostly stayed the same, all local mechanics know how to fix it. Its auto parts are also readily available at very low prices, making maintenance even easier. Read Also: Suzuki Bike Price In Pakistan | Suzuki Price & Specifications 2023
Suzuki Mehran Fuel Tank Capacity And Mileage
Suzuki Mehran fuel tank capacity and mileage is a name synonymous with affordability and reliability. Suzuki is a major manufacturer in Pakistan's automobile industry.
The company presented amazing models of cars and motorcycles in a row. In this article, you will study the Suzuki Mehran fuel tank capacity, mileage, and factors affecting the mileage of the Suzuki Mehran.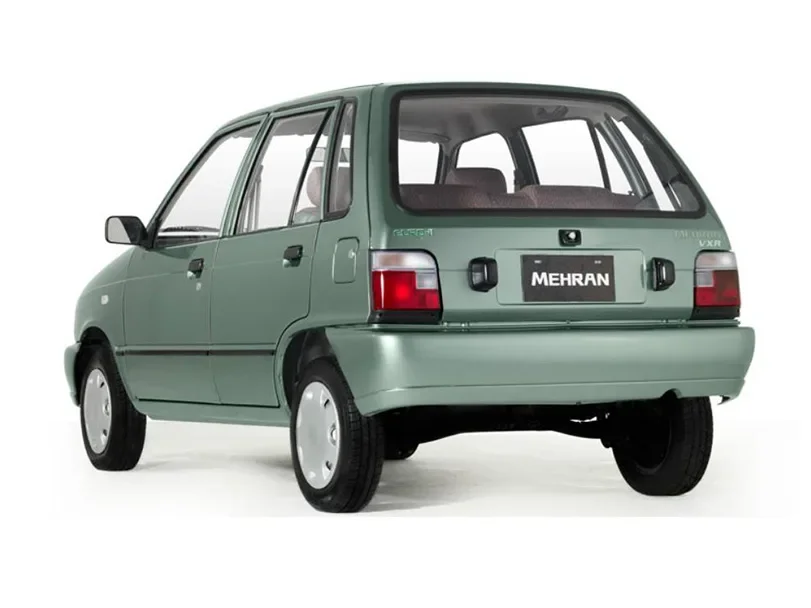 What is the fuel tank capacity of Suzuki Mehran?
The fuel tank capacity of the Suzuki Mehran is 30L, which provides a mileage of 13 to 18 km/L. With 30 liters of fuel, you can travel from 390 to 540 km on one tank.
What is the average fuel consumption of Suzuki Mehran?
Suzuki Mehran can deliver an average fuel consumption of 13 km/l in the city and 18 km/l on the highway.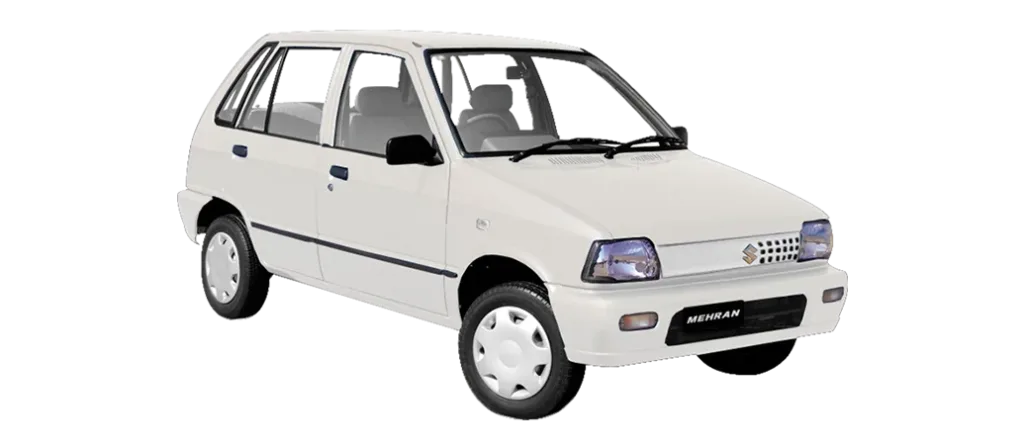 What factors can affect the average fuel consumption of Suzuki Mehran?
If you own a car and drive it every day, then mileage is an important aspect that you should consider. This can have a profound impact on your pocket. Some things will help you keep them under control.
Reckless driving is one of the reasons for low mileage.
The more weight you put in your car, the lower your fuel consumption.
Low tire pressure can cause the vehicle to consume more engine power, reducing mileage.
Leaving the engine idling wastes fuel.
Strong winds and heavy rain may affect mileage.
Driving with the windows down may decrease mileage because you will compromise aerodynamics.
Monthly maintenance of your car is essential to get good mileage.
Suzuki Mehran Latest Price In Pakistan And Specifications
| Vehicle Information | Specifications |
| --- | --- |
| Price | PKR 12.6 lacs |
| Body Type | Hatchback |
| Dimensions | 3300 x 1405 x 1410 mm |
| Ground Clearance | 160 mm |
| Engine Displacement | 800 cc |
| Transmission | Manual |
| Engine Power | 39 hp |
| Torque | 59 Nm |
| Boot Space | 254 L |
| Kerb Weight Range | 800 – 1330 KG |
| Fuel Type | Petrol |
| Mileage | 13 – 18 KM/L |
| Fuel Tank Capacity | 30 L |
| Seating Capacity | 5 Persons |
| Top Speed | 140 KM/H |
| Tyre Size | 145/70/R12 |
Suzuki Mehran Latest Price in Pakistan October 2023
Mehran Car 2023 Safety Features
| Safety Features | Availability |
| --- | --- |
| No. of Airbags | 0 |
| Speed Sensing Auto Door Lock | No |
| No. of Seatbelts | 2 |
| Anti-Theft Alarm System | Yes |
| Driver Seat Belt Warning | Yes |
| Downhill Assist Control | No |
| Passenger Seat Belt Warning | Yes |
| Hill Start Assist Control | No |
| Immobilizer | Yes |
| Traction Control | Yes |
| Door Opening Warning | No |
| Vehicle Stability Control | Yes |
| Child Lock | Yes |
| Rear Fog Lamp | Yes |
| ISOFIX Child Seat Anchors | Yes |
| Autonomous Emergency Braking (AEB) | No |
| High Mount Stop Lamp | Yes |
| Blind Spot Detection (BSD) | No |
| Anti-Lock Braking System (ABS) | Yes |
| Lane Departure Warning System (LDWS) | No |
| Electronic Brake-Force Distribution (EBD) | Yes |
| Lane Keep Assist System (LKAS) | No |
Mehran Car 2023 Safety Features
Suzuki Mehran Convenience Features
| Interior and Convenience Features | Availability |
| --- | --- |
| Air Conditioner | Yes |
| Rain Sensing Wipers | No |
| Climate Control | No |
| Heads Up Display (HUD) | No |
| Air Purifier | No |
| Cruise Control | Yes |
| Rear AC Vents | No |
| Driving Modes | No |
| 3rd Row AC Vents | No |
| Paddle Shifter | No |
| Heater | Yes |
| Key Type | Manual key |
| Heated Seats | No |
| Keyless Entry | No |
| Defogger | Yes |
| Push Start | No |
| CoolBox | No |
| Remote Engine Start | No |
| Navigation | Optional |
| Central Locking | Yes |
| Navigation Power Door Locks | No |
| Front Camera | No |
| Rear Camera | No |
| Power Steering | Yes |
| Power Windows | Yes |
| 360 Camera | No |
| Power Mirrors | Yes |
| Front Parking Sensors | No |
| Auto Retractable Side Mirrors | No |
| Rear Parking Sensors | No |
| Power Boot | No |
| Auto-Dimming Rear View Mirror | No |
| Cup Holders | Yes |
| Rear Central Control Arm Rest | No |
| Rear Folding Seat | No |
| Handbrake | Manual |
| Rear Headrest | – |
| Auto Brake Hold | No |
| Rear Wiper | No |
| Auto Parking System | No |
| Seat Material Type | Fabric with manual adjustment |
| Interior Lighting | – |
| Driver Seat Electric Adjustment | No |
| Glove Box Lamp | No |
| Driver Seat Lumbar Support | No |
| Cargo Light | No |
| Driver Seat Memory Function | No |
| Front Power Outlet | No |
| Passenger Seat Electric Adjustment | No |
| Rear Power Outlet | No |
| Steering Adjustment | No |
| Tyre Pressure Monitoring System (TPMS) | No |
| Steering Switches | No |
| Wireless Charger | No |
| Headlight On Reminder | No |
| Boss Seat Switch | No |
| Automatic Head Lamps | No |
Suzuki Mehran Convenience Features