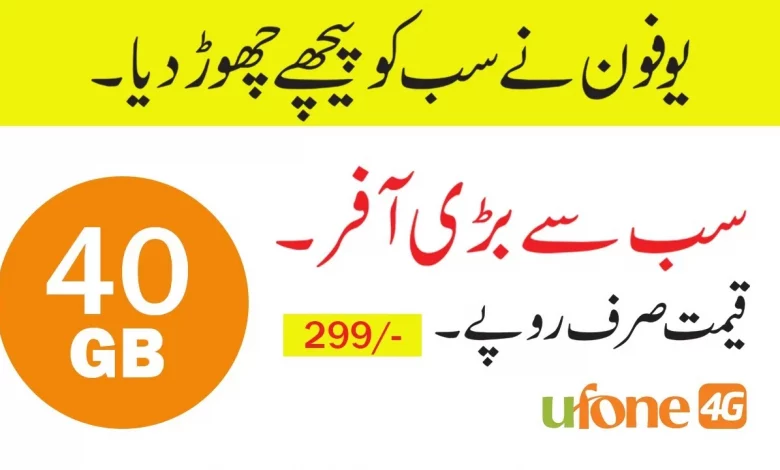 Ufone 4G has introduced the SAB SE BARI OFFER. Ufone claims that its industry's most extensive and affordable "Sab Se Bari Offer" hybrid package provides its customers with the best user experience possible.
The Ufone 4G hybrid package offers its users more convenience, control, and power to stay connected longer with superior company voice and data when they are engaged in
Work
Education
Leisure activities
Chating
Social Media
Streaming
Tik Tok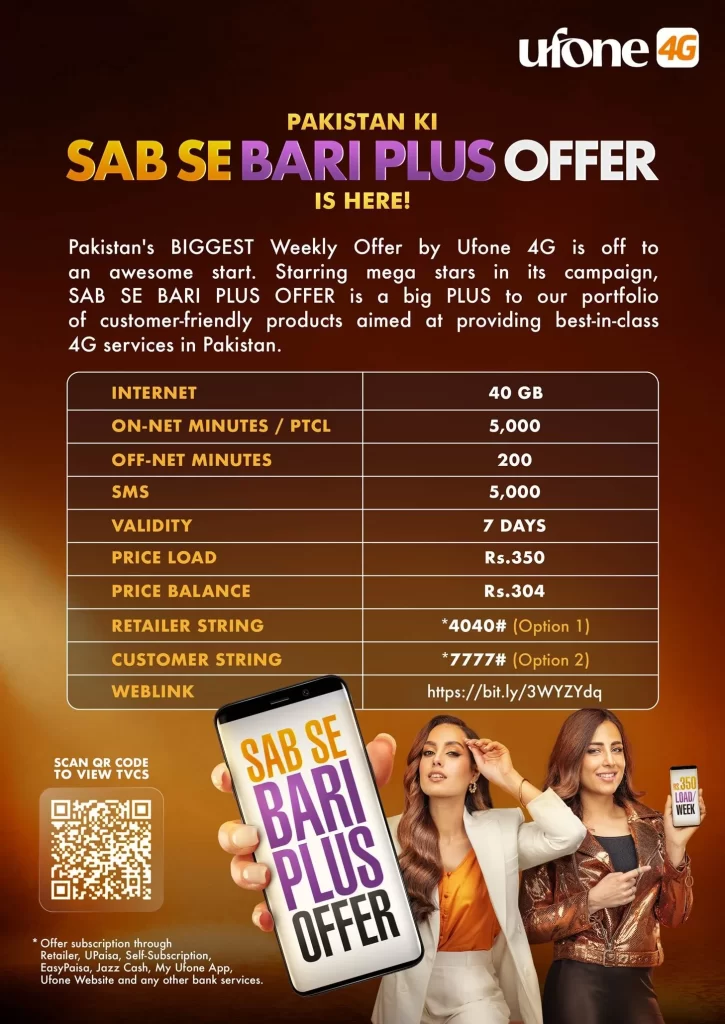 Related Article: Ufone Free Internet Code 2023 | Ufone Free Internet Packages
This is one of the best packages ever introduced by the Ufone. So today, check out the complete details about the Ufone Sab Se Bari offer.
How to subscribe to this Package
What are the charges of this Package
How many MBs avail in this hybrid packages
What is the validity of this Package
Related Article: Ufone Balance Check Code: Latest Balance Inquiry Code
How to Subscribe Ufone Sab Se Bari Offer
Ufone's latest 4G offering, " Sab Se Bari Offer," is yet another attempt to provide customers with simplicity, convenience, and unrivaled connectivity. The package offers the most significant amount of MB at the lowest price in the industry to make quality voice and data services available to every customer.
Related Article: Ufone 4G Launches 'UPower 140′ Bundles
Ufone 4G's Sab Se Bari offer free calls to Ufone and PTCL numbers and 40GB of data for a week for just Rs 299. A massive amount of data will improve customer experience in social media, entertainment, gaming, education, work, and more, while voice calls can go on forever.
Related Article: How to check Ufone number without balance 2023 – Pro Guide
Ufone 4G is constantly improving and upgrading its network and services to meet the growing demands of its customers for voice and data transmission. Since acquiring the 4G spectrum, the company has made significant progress in data transmission while ensuring the highest quality of service.
Ufone is now focused on quality and innovative services, ultimately increasing customer loyalty and expanding the company's subscriber base by providing them best internet packages and voice bundles.
The latest PTA numbers show that the company has acquired many data subscribers, making it a leader in new customer acquisition.
Related Article: Ufone Muft Mornings offer | Muft Mornings Package, Activation Code 2023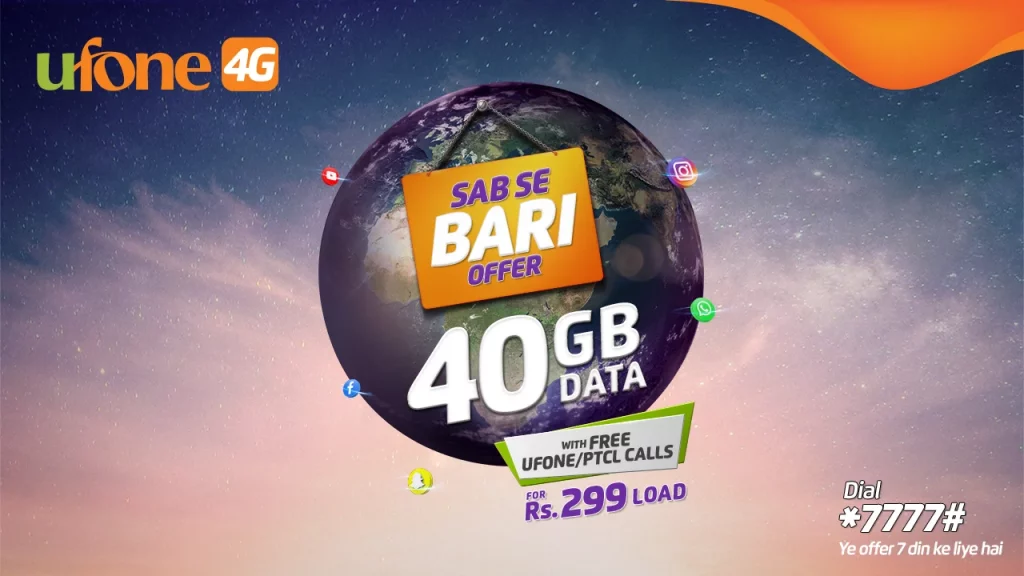 Ufone Sab Se Bari offer
Would you like to receive weekly unlimited internet and unlimited minutes on your Ufone prepaid SIM card? If yes! Then here we have a new package for you. This package initially cost Rs 299 but requires a deposit of Rs 300 to fully activate it. It will give you unlimited internet to use
Facebook
WhatsApp
IMO
Google
And other apps + regular data.
Here is a 40 GB limit on the Ufone Sab Se Bari Offer. In addition, this package provides unlimited PTCL and Ufone minutes as advertised on the official Ufone portal. Here is the 5,000-minute limit that applies to prepaid calls. Here is more Ufone packages information check out this article Ufone Call Packages 2023 Ufone All in One Packages 2023| Updated Packages.
This weekly package is valid from the date of subscription for precisely 7 days. After 7 days, this package will be canceled (expired) at 12 midnight.
Offer name:
Ufone Sab
Se Bari
Internet:
Unlimited
(40 GB limit)
Minutes:
Unlimited
(limit 5000)
Validity:
7 days
Price:
299 rupees
Code:
*7777#
Ufone Sab Se Bari offer Activate code
Dial *7777# and activate the Ufone Sab Se Bari offer using your mobile phone's Keypad. On the other hand, in the case of online activation, you can enter your number in the given field and activate this package online at a fixed price of Rs 299.
Related Article: How to Check Ufone Number | Ufone Number Check Code 2023
Ufone Sab Se Bari Offer Free Calls And 40,000 MB
Free calls to Ufone and PTCL and 40,000 MB made this offer unique. That's why people are looking for this package every day. No other daily, weekly, or even monthly package offers such significant (massive) incentives at a low price.
Therefore, this bucket is unique and unique in terms of its incentives and price. That's why we recommend our dear visitors to replace this weekly bucket with 40 GB instead of your old Ufone internet and calls weekly packages.
About Ufone
Similarly, Ufone 4G was recently ranked as the best voice and data provider by Pakistan Telecommunications Authority (PTA) in its 2022 Mobile Network Comparison Report. PTA has carried out systematic tests and trials of all carriers in all federal and provincial capitals, including major highways and highways, to ensure the quality of service, which confirms Ufone 4G's continued focus and commitment to providing the highest quality of communication for its customers.
It also ties in with Ufone's commitment to bridging the country's digital divide by bringing more and more unserved and underserved populations to digital inclusion. The company is focusing on increasing its female user base so society can share the benefits of high-speed Internet.
Ufone 4G's recent efforts are a testament to its customers continuing to rest comfortably at the heart of Ufone 4G's business philosophy, as evidenced by its longstanding corporate slogan, "Tum Hi Tou Ho!". (It's all about U!).
Get 40GB for Rs 299 with the Ufone Sab Se Bari offer. In addition, the user will receive unlimited PTCL and Ufone minutes for 7 days. Details of this bucket are present here.