We've missed chances and opportunities in life and it can be painful, but don't miss out on your limitless entertainment. Because these are short time chances to enjoy life. So here we are going to share with you some unique and quality Best Live TV Apps 2021 detail where friends can watch Live Tv.
Whether you work in the office or travel, or some important job shows up during the prime time of your favorite shows, entertainment is your daily dose of happiness, and if you miss out on your happiness, you are furious. There is nothing to worry about it. Here are fantastic Best Live TV Apps 2021 because all your latest and popular TV shows are at your fingertips.
If you are far from home, carry your TV wherever you go, watch all the live streams in prime time, and if you missed your latest episodes, watch them again. Receive all the latest updates from the leading Best Live TV Apps 2021. It takes too much time and to do it and most people, not like this.
List, Of Best Live TV Apps 2021- All Time Best For (South Asia)
If you are a cricket lover, don't miss the comments about your last cricket match. Binge watches all the latest web series, originals, and wastes your time. Study the content of your language so that you are more connected with the content.
Watch popular international TV series, Bollywood blockbusters, and Hollywood movies available in multiple languages. Here are some live streaming apps with unique and exclusive features:
Jio TV
One of the largest and Best Live TV Apps 2021 service providers and popular multimedia applications for Jio users is Jio TV. You can enjoy a variety of genres including drama, comedy, music, crime regional action, religious genre, and more. There are over 600 TV channels and 100+ multilingual HD channels that include a list of your favorite TV shows, movies, and content that you can watch anywhere.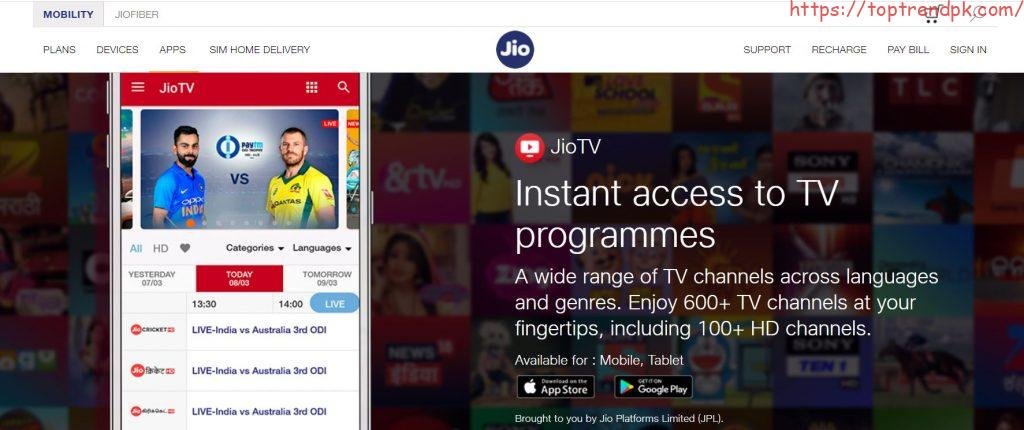 The JioTV app offers many channels in different languages, including Gujarati, Punjabi, Urdu, Bhojpuri, Assamese, Kannada, Telugu, Malayalam, and Bengali. The Jio live tv streaming apps provide great TV viewing controls and an easy interface to access.

It comes with a lot of cool features like pause and plays live TV channels, set the remainder for your favorite upcoming TV shows, movies, and more, adjust the TV player quality, and many more functions. The app is free and available for Android users, and the iOS user provides you with an easy way to watch, download, and enjoy your favorite shows and movies. Carry your TV with you wherever you go.
SonyLiv

SonyLiv Originals change their appearance every year: more than 100 new originals, international TV series, and films.
One of the Best Live TV Apps 2021 for South Asia, SonyLIV is a one-stop video-on-demand entertainment service available in India and Pakistan. It is owned by Sony Pictures Networks India Pvt. Ltd. based in Mumbai, Maharashtra, India.



The apps offer exciting features, including streaming over 40,000 hours of interesting stories from one of India's most famous storytellers. You can create up to 5 different personalized profiles and watch all your favorite shows as well as share them with your friends. Watch your favorite shows without interrupting ads with a subscription and enjoy smooth streaming services.
You can also watch your favorite Sony SET and SAB TV shows live on the SonyLiv app.
Divide the screen by 2 and look at 2 screens at the same time. You can also watch the most popular English shows, sports broadcasts, the WWE universe, kids shows, and more It also offers subscription plans for INR 99 per month, INR 299 for six months, and INR 499 per year to watch uninterrupted ad-free access for your unlimited fun. Live streaming apps are available for free for Android and IOS users.
Hotstar

Explore a variety of genres including Action, Drama, Romance, Family, Comedy, Mythology, Crime, Horror, Thriller, Sports, Talk Show, and more. Carry your TV with you on your trip wherever you go and don't miss out on your daily dose of drama with your favorite TV shows. Watch all the latest TV series on stellar Indian channels in prime time. Best Live TV Apps 2021 Hotstar offers unlimited Indian entertainment including TV series, live cricket, news, and blockbusters. It may be available in multiple languages.


Enjoy live cricket with new host features including an exclusive Dugout commentary feed, follow up posts, and pre-match analysis, listen to commentary in 6 languages and stream various tournaments live on TV.
You can watch all blockbusters, hit movies, and the latest web series anytime, anywhere. Follow all the latest news and live news from leading Indian news channels. It has two paid subscription offers: Hotstar VIP and Hotstar Premium. Live TV Hotstar app is available for Android and IOS users.
Vote

It's Viacom18's premium video-on-demand app that delivers thousands of hours of content, TV shows, and movies at any time.
This is an Indian video-on-demand subscription service launched in March 2016; forms the online division of Viacom 18. It offers its viewers the unlimited enjoyment of Voot and Voot Select.

Live streaming apps have a huge collection of the content library where you can explore over 70,000 content available in a variety of genres. It offers shows from Indian channels including Color TV, MTV, Color Infinity, Comedy central. Content is also available in multiple languages such as Kannada, Marathi, Bengali, Gujarati, Telugu, and Tamil.

It offers unlimited entertainment offerings as well as free access to international shows, live events, exploration of thrilling booze thriller originals. It has an exclusive feature that allows you to watch popular reality shows up to 24 hours before going on TV. Get your daily dose of entertainment by watching live streams of your favorite Indian shows in the app.
The app is available for Android and IOS users and a website for desktop consumption.
Zee 5

Zee 5 offers over 4,500+ blockbusters, 90+ live tv streaming channels, thrilling and immersive original web series, international TV series, breaking news, world digital premieres, music videos, award-winning stories, and biographical films.

It has exclusive features allowing you to watch your favorite shows before watching TV without ads. It also adds fun elements created on the unique HiPi video platform to express exciting features to you in a cool setting and share with the world.
The Zee 5 offers dubbed videos in 7 languages with 11 display languages and 13 content languages. The interface is simple, smooth video playback, and live tv streaming guide for channel programming.

You can listen to music videos in different languages; search your content, including voice search and more.
Join and explore the Zee 5 Club, where the fun is endless. You can watch all the missed episodes of your favorite TV series. Explore the Zee5 Originals, the Zee5 Alt Balaji Web Series, Zindagi Favorite Shows, and Kids' Fun.
The Zee 5 app is available for Android and iOS users.
Airtel Xstream

Airtel Xstream offers unlimited TV shows, movies, music, religious, entertainment, sports events in 350+ different languages. It offers exclusive features such as play and pause live, load and save data, and watch later in high quality.

Live tv streaming apps have a huge collection of content available in different languages. Watch movies and TV shows from multiple partners' apps like Zee 5, Hungama, Eros Now, HOQQ, Alt Balaji, Sharlet, Youtubes.

Watch all your live streams and missed episodes from Airtel Xstream. Watch your favorite shows and movies on the big screen, control your voice, turn your smartphone into a remote control, experience 4K picture quality and run the latest Android Pie platform, entertainment is always on the cutting edge, and it also offers built-in Chromecast.
The app is available for Android and iOS users.
Vi Films and TV

This app contains the largest collection of 2.5 lacquer hours of content, which includes 450+ live tv streaming channels, 10,000+ newest Bollywood channels, 150+ news channels, regional, international, and Hollywood movies, top-rated TV shows, and original web series …

Live streaming apps are available in 13 languages, so you can enjoy endless entertainment wherever, whenever you want
Watch all your favorite content from all OTT platforms in one app with a user-friendly interface and controls including volume and brightness, autoplay, app notifications, and video quality settings.

You can get information from specific content partners from the menu, and you can also download movies and shows offline and watch later at no extra charge. Watch your favorite TV channels live from different categories and never miss your favorite shows. You can watch all of your exclusive web series and originals. The app is available for Android and iOS users.
Daddy Sky Mobile
Tata Sky Mobile is Best Live TV Apps 2021 brings you over 400 live tv streaming channels, live sports, news, TV shows, and movies on demand.
Explore a variety of genres including sports, news, entertainment, and more, available in multiple languages. Stream and download thousands of videos from a huge collection of Bollywood and Hollywood movies, TV shows, web series, and more and watch them later.
If you missed the episodes, you can see the episodes from the last 7 days in this app. The app is user-friendly and also includes exclusive features such as pause and play TV shows, movies, live sports, and news.

It includes all of your popular latest trending shows, and Stream TV for Free Online multilingual movies, live sporting events, and more. If you're a big cricket fan, then you get all the ball news, scoring cards, and more. Simply top-up your Tata Sky account online through the app with no hassle, activate this app on your existing Tata Sky account and streaming content is not available outside of India