Latest Updates
Rehmatul Lil Alameen Scholarship Program 2023 | Apply Now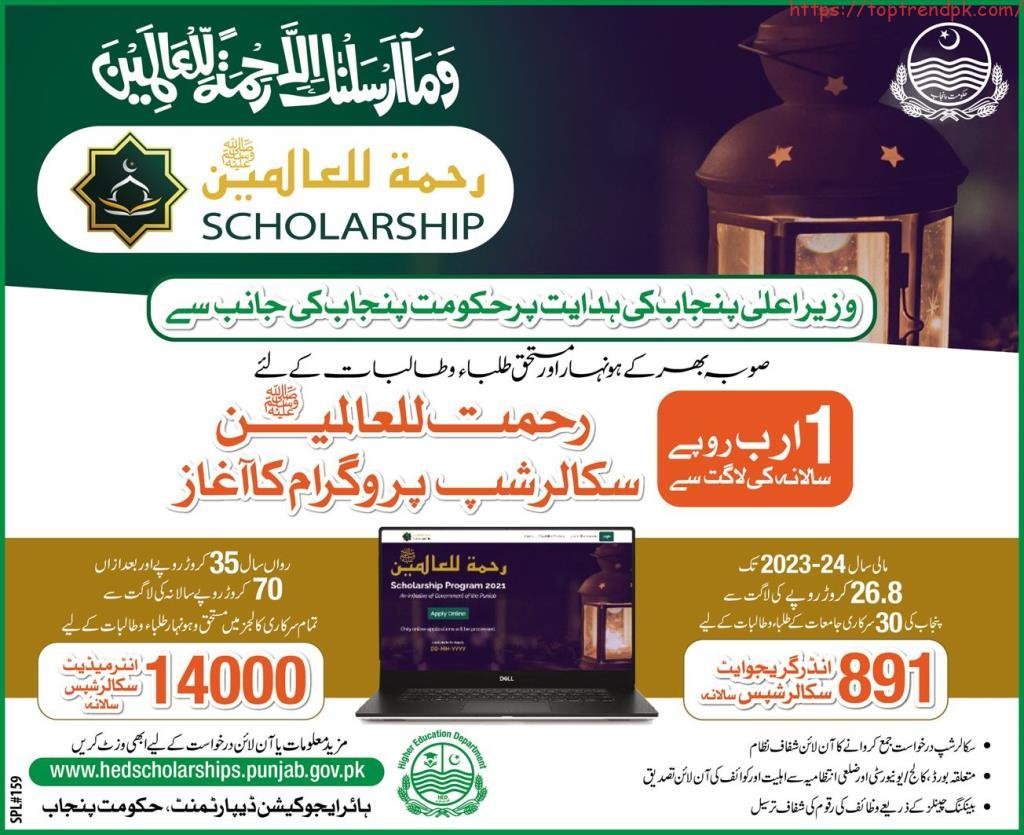 Rehmatul lil Alameen Scholarship Program is one of the best Scholarship Programs started by the government of Pakistan. Rs 27.93 billion worth of scholarship programs for students all over Pakistan through 129 universities all over Pakistan. In this article, we are going to describe complete detail about Rehmatul lil Alameen Scholarship Program.
Related Article: PM Laptop Scheme Online Registration 2023 – How To Apply
UK Great Scholarship Program 2023 Click Here
How to apply for this Scholarship where you can download their application form, registration guide eligibility criteria, qualification, age restriction, and other information that helps the student use the Rehmatul lil Alameen Scholarship Program. This program will help needy students across the country who are unable to pay their fees government will help them under this program.
Let's begin a story and discuss in detail and share everything that is very important to know about this Rehmatul lil Alameen Scholarship.
REHMATUL LIL ALAMEEN SCHOLARSHIP FOR INTER AND UNDERGRADUATE STUDENTS 2023
Rs 27.93 billion huge amount approved by the government on a national level for Rehmatul lil Alameen Scholarship 2023. This budget will be used in the coming five years under this program. Here is a complete process and detail about applying for the Rehmatul lil Alameen Scholarship program 2023.
Punjab Government has announced 1 Billion Rehmatul-Lil Alamin Scholarships for Intermediate and Undergraduate Students; 14,891 students will receive the scholarship annually. Eight hundred ninety-one undergraduate students receive a Rehmatul-Lil Alamin scholarship annually, and 14,000 scholarships are reserved for intermediate students.
Dalda Foundation Scholarship Program 2023 | Download Application Form
Related Article: Apply Now for Punjab Benevolent Fund Scholarship 2023 in Pakistan
The provinces are going to set the budget for this Scholarship Program. Punjab's government has already established a significant amount for Rehmatul lil Alameen Scholarship 2023, one billion rupees.
Ehsaas Under Graduates Program Apply Now Click Here
Online application is accepted for Rehmatul lil Alameen Rehmatul lil Alameen Scholarship Program 2023. Here is the link whereby following steps you can apply online for this scholarship. The Higher Education Department of the Government of Punjab website link is given below.
Eligibility Criteria For Apply Online – Rehmatul lil Alameen Scholarship
The scholarship awarded based on the SSC results will meet the following criteria. The following criteria must be met for applicants for the Rehmat ul Lil alameen scholarship based on requirements.
Ehsaas Emergency Cash Portal Check CNIC Click Here
Students who have gained at least 60% of the SSC exam grades in any public sector school in Pakistan and enrolled in a public sector college within two years of passing the SSC exams.
Rehmat ul Lil alameen scholarship It is forbidden to use any other scholarship. ( Student who applied for another scholarship not eligible for this scholarship )
General science students and humanities ( Arts) groups in a ratio of 60:40 respectively based on equal gender distribution for students.
Bahimat Buzurg Program Online Registration 2023 Apply Here
For applicants for the Rehmatul lil alameen scholarship based on needs, the following criteria must be met.
Parents' income must be less than or equal to Rs. 25000 / – per month
Parents are not allowed to own more than 5 hectares of agricultural land or 5 Marla's property in the city.
Note: Of the 50% of need-based scholarships, 10% is reserved for children of government officials (grades 1-4).
Applicants must have the highest score in their district as selected by the Department of Higher Education in light of the results published by the secondary and secondary school boards.
The applicant's assessment is confirmed by the data provided by the Punjab municipal councils via HEP.
Students enrolling at a public institution outside their district merit their merit based on their residential area.
Note: A candidate's merit should be determined by their district/city, not by the town or district they are admitted to.
Winter vacation in Punjab 2021 Today News | Winter Vacation 2021 Updates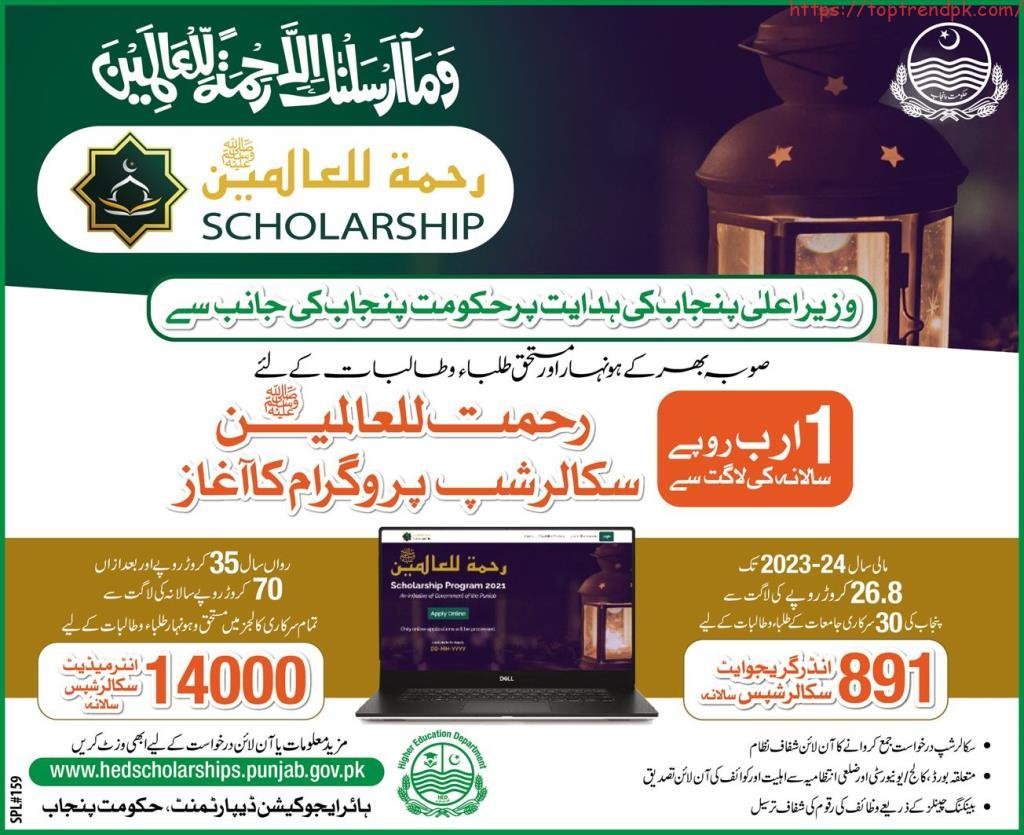 How to Apply For Rehmatul lil Alameen Scholarship 2023
Punjab Government has introduced special scholarships for students. The name of this scholarship is Rehmat Ul-Lil-Alamin. They specifically announce this scholarship for the talented and low-income students of the province. Due to COVID-19, many students are unable to pay for their tuition. They resigned because of poor financial conditions.
Sehat Insaf Health Card Complete Guide Available Click Here
Therefore, the Chief Minister (CM) Of Punjab, Usman Buzdar thus assists students of all public colleges and universities in Punjab based on their merit and needs. Only applicants with a household income of less than or equal to Rs are eligible for a scholarship of 25,000 per month, and the parent must not own more than 5 acres of agricultural land or 5 acres in the urban property. In this need-based scholarship, a quota of approximately 10% is reserved for the children of civil servants. Related Article: AIOU Online Admission Form 2023 Matric, Inter, BA, B.Ed, MA